About our project

The problem we solve: Key challenges: 1) Patient: When people are diagnosed with illness the only place they consistently go to, "Dr. Google", overwhelms them with repetitive, irrelevant, outdated, unreliable, unsafe and incomprehensible health information. Other existing resources are too generic (e.g. WebMD) and online communities are too anecdotal. This is especially true for people with serious/chronic illness that become "chronic web researchers" for any information that could help them cope. 2) Biopharma: Today, industry-sponsored clinical trials are actively seeking to recruit over 2 million patients. Trials recruiting targets are rarely met in time, or at all. Newly approved therapies take years to deploy at scale and direct-to-consumer marketing is a broken, blunt instrument. 3) Provider: Want to keep up with advances in their field and educate their patients. Neither is possible, as they do not have the time or tools. Doctors hate patient implications of "Dr. Google".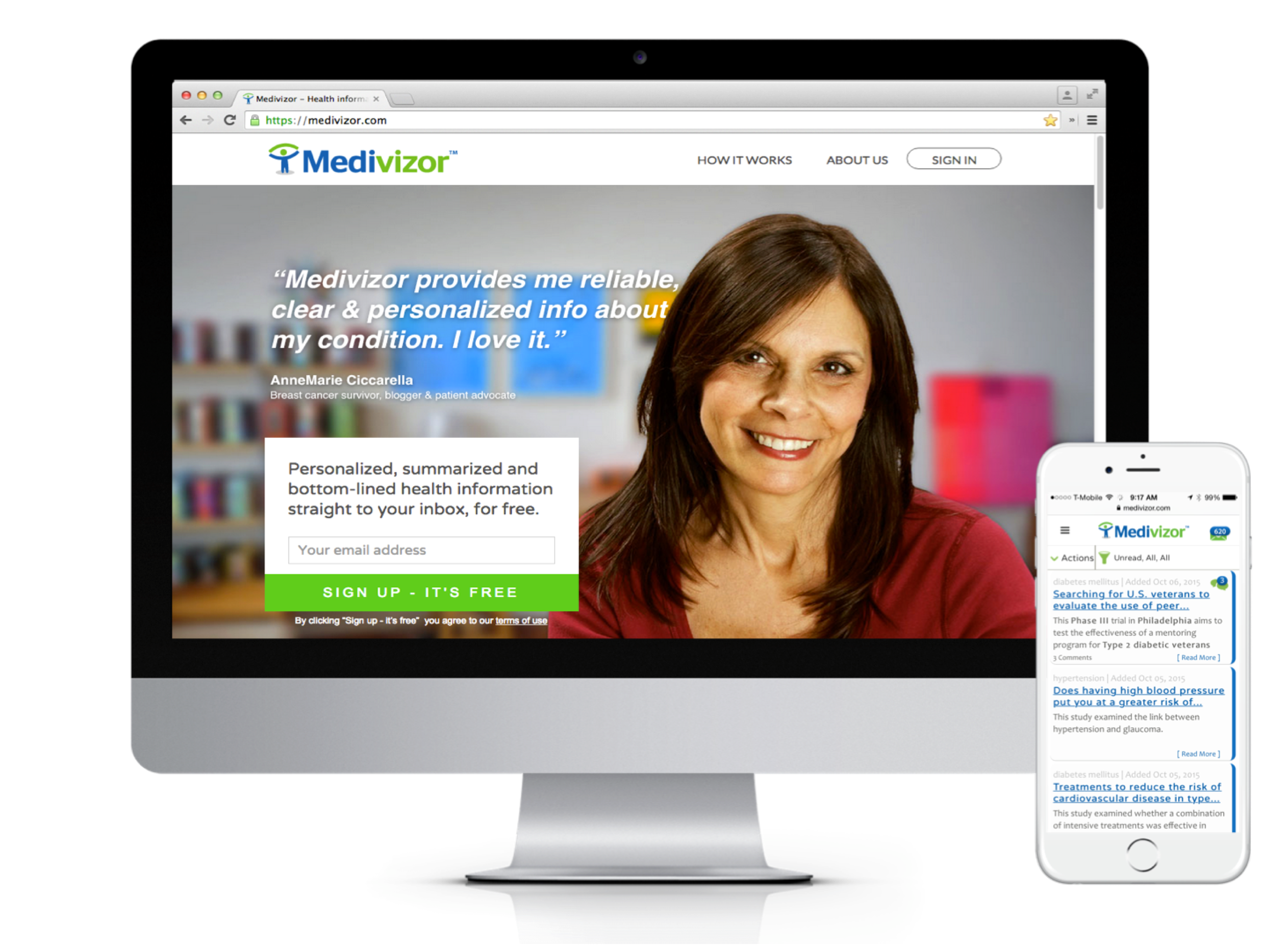 About our solution: Medivizor earns its subscribers long-term trust and engagement by providing them with a one-of-a-kind valued resource of cutting-edge, personalized medical information, empowering them to make educated, well-informed, decisions about their health. By means of its highly detailed subscribers' medical/health semantic profiles, Medivizor also enables biopharma companies to reach and engage the needed patients. Medivizor combines a patented technology (including AI/ML/Semantics) with medical expertise. It (i) scans the medical literature constantly, (ii) curates and summarizes relevant content, and (iii) delivers it to patients and doctors.
Progress to date:
Medivizor is trusted by well over 100,000 subscribers using the service. 94% of which recommend the service. Medivizor is licensed and distributed by dozens of leading healthcare providers (e.g. NewYork-Presbyterian Hospital) and non-profits (e.g. The Leukemia & Lymphoma Society). Medivizor is relied upon by pharma and med tech companies to reach and engage hard-to-find patients for their recruiting clinical trials and to reach, engage, educate, and activate patients.
About Our Team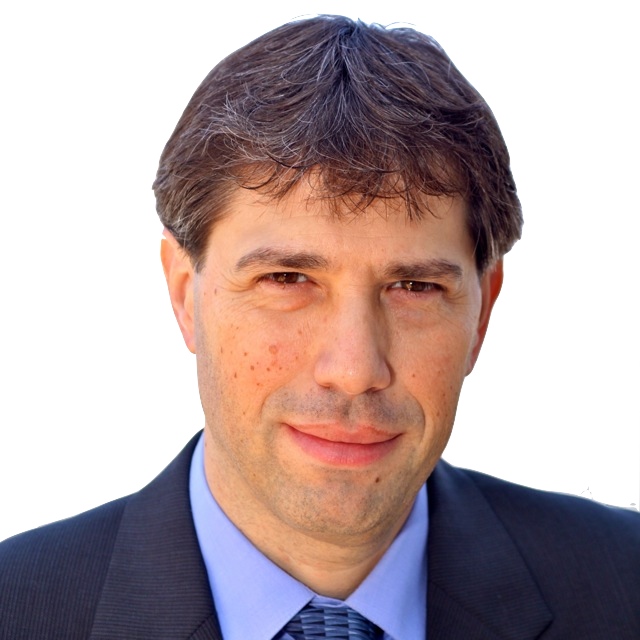 Creator: Tal Givoly
Location: New York
Education: Tel Aviv University
Bio: Mr. Givoly is CEO and Co-Founder of Medivizor, a multi-award-winning provider of a unique service of personalizing cutting-edge health information for people diagnosed with illness. Tal has over 30 years of leadership in innovation and product and software development experience holding leadership positions in technology, innovation, research and development, with a proven track record in "realizing visions" in startups and multinational corporations. Before founding and leading Medivizor, Tal was Chief Scientist at Amdocs (NYSE: DOX) and led innovation activities across the company including heading up Amdocs' technology incubation unit and open innovation programs (2004-2011) and Tal also served as CTO at DarioHealth, creator of the connected all-in-one diabetes management platform, leading its innovative product developments. Tal is a prolific inventor with over 30 granted patents with many more pending. He is recognized for his passion for, and expertise in, innovation, being invited to speak at major industry events such as Stanford Medicine X, Digital Health Summit, CE Week, Consumer Electronics Show (CES), Mobile World Congress and CTIA. He was also actively involved in industry forums and standard bodies including the TM Forum, IETF, ATIS, and IPDR.org. Tal was a director on the board of IPDR.org and TM Forum. He holds a Dual B.Sc. Cum Laude in Mathematics and Physics from Tel Aviv University.
Title: CEO & Co-Founder
How We Help Patients
Medivizor provides the ultimate patient empowerment platform. We arm patients and caregivers with the latest, trusted, medical science relevant to their specific medical circumstnaces. We help them understand it all and make well-informed decisions about their care. We're already helping well over 100,000 subscribers and are being thanked nearly daily for what information and service we provide.
How We Help Physicians
Medivizor allows providers to really provide patients with beneficial information that quenches their thirst for knowledge concerning their health. Today, the information provided by providers isn't sufficient to avert the ramifications of "Dr. Google" on the provider-patient dialog. Medivizor can allow providers to give patients something that does - trusted, non-sensationalized, understandable, yet cutting edge and personalized. See why Physicians Practice recommends Medivizor as a top-10 resource to be provided to patients.
How We Help Hospitals
There are numerous ways Medivizor can help hospitals. First, it helps provide patients information that is better than that currently offerred to them - always up to date, always personally relevant, and quenching their thirst for knowledge and avoiding their need to "Dr. Google" everything. Second, it allows them to attract more patients and earn more business.
How We Help Partners
Medivizor primarily helps pharmaceutical and med tech companies reach and engage just the right patients at just the right time. This can be usefulf or accelerating and reducing the cost of clinical trial patient recruitment, direct to consumer marketing, or obtaining precious patient insights. Medivizor is already working on all of these areas with biopharma customers.
Challenge Mission
Affiliation(s)
Medivizor is a graduate of IBM AlphaZone Accelerator. Medivizor team members and advisory board have numerous affiliations, too many to mention here. Check out https://medivizor.com/team for more.
Key Milestones Achieved and Planned
We're proud and honored to be helping over 100,000 subscribers, who thank us nearly daily. We were named a top 10/15/20 blog in various therapeutic areas. We earned the trust of non-profits and healthcare providers and distributed to patients through them. We appear as #1 or #2 search result on Google for over 100 keywords. We're on track for 400% YoY revenue growth. We won over half a dozen awards. We received notice of allowance for our first patent. Our next milestones including massive subscriber growth, customer growth, and revenue growth.
Our Competitive Advantages
The main competition is the habit of using "Dr. Google" to obtain health information and make decisions regarding health. We certainly address this the challenge posed by patients/caregivers better - personalized, and cutting edge.
Barriers to Entry
Patented technology. Copyrighted ever-green content. Trade marks and trade secrets.
Funding, Partners and Alliances To Date
We raised several $M from angel investors. We are now about to raise an additional equity round. We have several partnerships with healthcare providers and non-profits as well as with biopharma customers.